CHICAGO POP-UP
MAY 5th 2023, 8PM - 1AM
Join us for our 1-year anniversary of Midnight Hibiscus "flores y boleros"! 🌺🎶

Our resident astrologer, KPF will provide their unique insights into the lunar eclipse happening during our anniversary special.
Join us at 8:50pm for the opening toast to hear the astrology forecast for the collective. 1-on-1 consults will be available afterwards for those who are curious about personalized horoscopes.
Submit your astrology ahead of time for ease and extra notes on how this eclipse impacts you!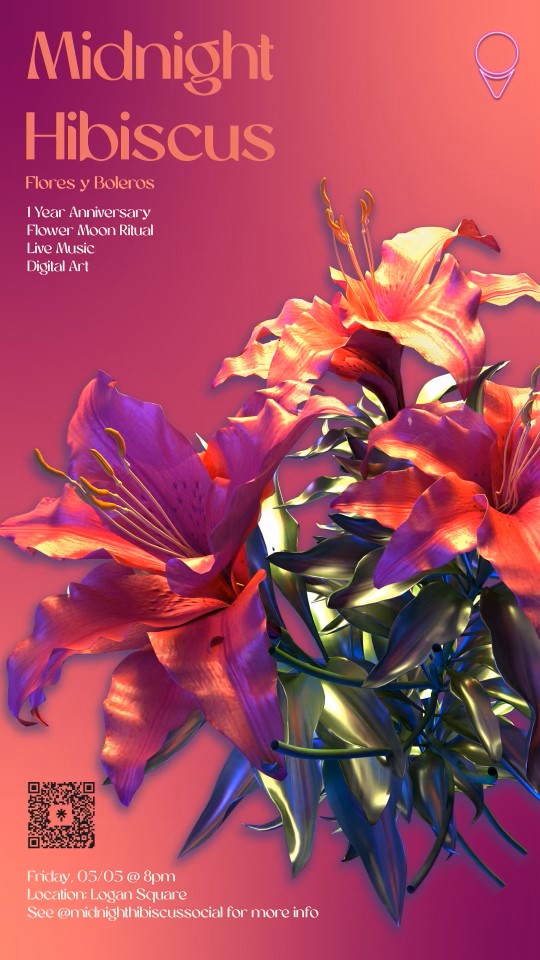 🌺🌕 "It's our first official social of the year and we're celebrating with a bang! 🌕🌺

BEFORE THEY SELL OUT!
To mark this special occasion, we're hosting a night of art, music, and magic on May 5th.

Don't miss this unforgettable evening! Get your tickets now and come celebrate with us under the Flower Moon.

Let's raise a glass to a year of beautiful art, music, and culture with many more to come!
Follow
@MidnightHibiscusSocial
︎
Subscribe to the mailing list to hear about future

in-person + online events
KATIA PEREZ FUENTES
...is a professional astrologer, certified hypnotist, and interdisciplinary artist. KPF helps people embody their celestial design through leisure rituals designed for learning, play, rest, and celebration.
☁️
bookings@kpfkpf.com ☁️
︎︎︎ LEARN MORE ︎︎︎
ASTROLOGY
your cosmic blueprint & celestial timings
Neo-classical readings building off 2400+ years of history. Contemporary interpretations rooted in traditional background in Medieval, Renaissance, 20th century Uranian cosmobiology, and teachings from industry leading professionals. Foundational and advanced studies under the Oraculos School of Astrology, plus various other schools of thought.
Concrete insights centered on planet-based narratives. Consulting astrologer since 2020.
︎
Delineations include: Predictive astrology using revolutions, progressions, directions, embolismic lunations, and phase returns. Horary and dream charts. Observing using the nodes, eclipses, and pulling from evolutionary astrology when appropriate. Medial astrology basics, gem and herbal associations. Locational astrocartography.
Basic understandings of medical astrology.
In recent years this astrology practice acknowledges Human Design as another tool to support clients, primarily in Hypnosis consultations.
HYPNOSIS
a goal-oriented practice of meditation, manifestation, & materialization
Hypnosis allows us to engage with non-ordinary states of consciousness where positive suggestions can be more easily introduced to our subconscious minds. Through deeply-relaxing exercises involving guided breathwork and visualizations, we can work with our brain's neuroplasticity to transform into our ideal selves.
When we enter a trance state it becomes easier create new neuro-pathways and evoke our desired changes more efficiently. Taking our focused attention into deeply relaxed states generates theta waves, which naturally occur just before falling asleep. In this 'dream' state we can unlock memories, reframe beliefs, and recondition our habits.
I am certified by the National Guild of Hypnotists as a consulting practitioner and graduate of The Divine Feminine School of Hypnosis.
My style of trance work is also informed by cultural practices and curanderismo rites. This includes energy clearing, limpias, and soul loss work learned through mentors in my communities.